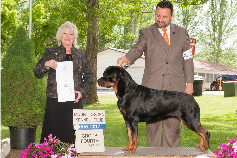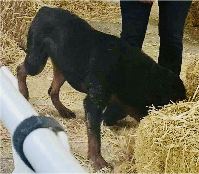 Pueblo, Colorado is in Southeastern Colorado at the confluence of the Arkansas River and Fountain Creek. Downtown's 1.5-mile Historic Arkansas Riverwalk serves as a centerpiece for the city's three-district Creative Corridor of galleries, cultural destinations and events. We find this is the perfect place to also enjoy our love for rottweilers. Trails, training centers, restaurants with dog friendly, outdoor patios, Farmer's Markets and ranches for herding are all easily found and are just a few of the things that allow us to let our rotties be integrated into every aspect of our lives. It is also an easy trip to both northern and southern cities within Colorado via the I25 corridor, which allows us to be actively involved in the best of what Colorado offers in training and showing of our dogs.
We feel that all rottweilers deserve to be family members and live inside the home with their family. We believe that all rottweilers deserve and need obedience training because they are an incredibly loving and loyal dog. We also believe that they are working dogs and as such need to be trained and challenged daily. This can be in the form of walks daily with their owners, competition training, showing, carting, schutzhund, herding, rally, nose work, tracking, therapy work, service dog work or many other activities. We feel that by working with our dogs that the bond we share is strengthened and that their minds and bodies stay sharp and in-shape. We believe that this increases the respect we have for one another. Working with our dogs is a joy and a blessing and we hope that all owners of this wonderful breed will agree.
According to the FCI Standard, the Rottweiler is good-natured, placid in basic disposition, very devoted, obedient, biddable and eager to work. Their appearance is natural and rustic, their behaviour self-assured, steady and fearless. They react to their surroundings with great alertness. The American Kennel Club says it is a calm, confident and courageous dog with a self-assured aloofness that does not lend itself to immediate and indiscriminate friendships. A Rottweiler is self-confident and responds quietly and with a wait-and-see attitude to influences in its environment. It has an inherent desire to protect home and family, and is an intelligent dog of extreme hardness and adaptability with a strong willingness to work, making them especially suited as a companion, guardian and general all-purpose dog. According to the American Rottweiler Club it is the best breed in the world, but it is not a dog for everyone. They require a calm, stable and firm "pack leader" or they will assume that role for you. They need socialization, exercise and stimulating mental challenges. With these things, you will have a wonderful companion.
We believe that only dogs that have passed all the Orthopedic Foundation For Animals recommended testing for our breed should be bred. We also believe that the American Rottweiler Club's breeding requirement & guidelines should be strictly followed. Finally, we believe our breeding stock should also have at least an AKC Championship in conformation to show that it meets the breed standard for our breed. By adhering to these strict standards, we believe we can help to continue to maintain and even improve the rottweiler.